I think most people will agree that, on the whole, Arsenal fans were filled with a quiet, but lingering, optimism stepping into this season. Rightly or wrongly, this was mainly due to the more enjoyable way that the, generally miserable, 19/20 season came to an end. Mikel Arteta's Arsenal team were able to beat both Manchester City and Chelsea in (somewhat) convincing fashion to go on to lift their 14th FA cup, in what was Arteta's 28th game in charge. Arteta's 29th game saw the team put in another respectable performance against the reigning champions, Liverpool, in the season's curtain raiser, the Community Shield, eventually winning on penalties after playing some decent football during moments of the game. This left some fans with lofty aspirations for the rest of the season, with many hoping that the spell outside of the top 4 would be coming to an end.
However, much of this fanfare ignored a few of the major issues facing the Arsenal team in the 20/21 season which I believe, unless rectified, will see Arsenal finish outside the top 4 again and even potentially outside of the European places. I will step through in a bit of detail of what some of these issues are and what I would like to see Mr Arteta do about them to ensure a change in our fortunes.
Lodged in between those semi final and final victories in the FA cup was a 1-0 defeat to Aston Villa. This game showcased a lot of what was wrong with Arteta's approach coming into the 20/21 season. What was clear from this performance, and some of the other performances post lockdown, was that Arsenal FC do not score enough goals. They don't take enough shots. They don't create enough shooting opportunities. They don't get their forwards close enough together to connect with each other. They don't cause enough jeopardy in and around the opponent's box. They are blunt.
This might be stating the obvious (with many pundits, respected or otherwise, having pointed this fact) but Arsenal's attack has only scored more than two goals in a league game on 5 occasions under Arteta. They have only won a game by more than 1 goal on 6 occasions. There are a number of contributing factors to this issue but in focusing on Arteta's system and what can be changed without another transfer window, I believe the number one factor is whoever is tasked to occupy the number 9 role in the middle of Arteta's favoured 5 channelled attack.
Any Role Players?
From my understanding of this role, it is quite similar to that of Roberto Firmino's role over at Liverpool and Harry Kane's role at Tottenham since the departure of Christian Eriksen. In both cases, these teams have now opted to play without an out-and-out creative midfielder occupying the number 10 position. Alexandre Lacazette or Eddie Nketiah are tasked with being the first line of the press and being the central link between the midfield & the wide forwards, who are essentially the main strikers who are supposed to take turns in occupying the central positions to score goals.
The number 9's task also involves making runs into the box to get on the end of chances themselves. Firmino played this role to perfection during the 17/18 and 18/19 seasons that saw Liverpool reach back to back UEFA Champions League finals. Harry Kane is currently in the form of his life playing this way, notching up a ridiculous 7 goals and 8 assists in the first 8 games of the season.
If we take a look at some of their key statistics in performing role, it becomes abundantly clear where the Arsenal strikers do not quite match up to their Liverpool or Tottenham counterparts.
| Player and season | Successful passes p90 | Successful pressures p90 | Touches p90 | Shot creating actions p90 |
| --- | --- | --- | --- | --- |
| Firmino 17/18 | 28.0 | 6.61 | 51.5 | 3.94 |
| Firmino 18/19 | 36.4 | 7.24 | 56.8 | 3.48 |
| Kane 20/21* | 19.0 | 3.54 | 41.0 | 4.30 |
| Lacazette 20/21* | 16.3 | 6.11 | 30.9 | 1.67 |
| Nketiah 20/21* | 15.9 | 4.12 | 31.2 | 1.18 |
(fbref.com)
It's clear to me that the role asked of the Arsenal strikers is not quite suited to either of their skill sets. During Lacazette's time at Lyon he was, for the majority, played in a front two and asked to be a second striker linking up with Bafetimbi Gomis. On occasions, he was also deployed as an inside forward linking up with both Gomis and Jimi Briand in a 433 formation (with Gomis again being the main target man here). It can also be argued that Lacazette's best football for Arsenal has come where he's played in a front two with Pierre-Emerick Aubameyang, with the Gabonese forward making runs in behind to free up space centrally for Lacazette to operate.
Never before in his career has he been tasked with bringing others into play by holding up the ball in central spaces and it seems odd he has now been asked to do this at the age of 29, in what should be the prime of his career. His lack of creativity and mobility means he struggles to run the channels or shuffle into wide areas to link with the wide forward like Firmino would do for Liverpool.
The lack of mobility also means he is unable to drop deep to link play to then arrive later in the box like Kane does to good effect for Tottenham. This means Lacazette often tends to be left isolated in the middle of the pitch being marked and manhandled by bigger & stronger defenders. Also, he is often left out of breath well before the 90 minute mark as his lack of engine struggles to deal with the workload asked of him.
On the other hand, you could argue that Nketiah does have the mobility, engine and pace to do this role to some extent. However, he operates best in the box and his play outside of this has room for improvement. He is neither creative with his runs nor does he have a wide range of passes in his repertoire. Often when the ball goes up to Nketiah it is played straight back the way it came or it is miscontrolled as a defender puts him under pressure meaning the chance to build play is lost.
Arsenal fans were often bewildered by why Nketiah was not able to get many minutes playing for Leeds last year in the Championship but it has become evident this year when watching Leeds more closely that his all round game leaves much to be desired, especially when compared to the in-form Patrick Bamford who plays a similar role at Leeds.
Neither striker possesses a particularly wide or accurate range of passing like Kane, the ability to beat a man one on one like Firmino or even the ability to pressure defenders with quality holdup play as others get near to them like Olivier Giroud. With all of this combined, it is no surprise to see that they are way down on Firmino or Kane's on the ball activities with much lower shot creating actions, touches and passes completed per 90.
With this in mind, it might explain why we saw Arteta try something different in the somewhat failed experiments of Willian and then later Joe Willock playing in the 'False 9' role against Manchester City and Rapid Wien respectively. These players, in theory, have the requisite on the ball qualities to fulfil this role through their ball carrying, running power and technique. However, neither player has experience of playing in this central striking role, so often their movement was confused and out of sync with the rest of the team.
Arteta has proven he is not an idiot. His defensive framework has worked wonders for a defence that many, including myself, described as "uncoachable" and I most definitely used a number of unkind expletives to describe any one of the Arsenal centre backs prior to his takeover as head coach. Arteta now needs to demonstrate that he is again willing to go into his bag of tricks to find something that works for the attackers at his disposal.
Central to the solution
Aubameyang, now the club's highest earner, highest goalscorer for the past 2.5 years and also club captain, is without doubt one of the finest strikers in the league and in European football. His goalscoring record speaks for itself with only Mo Salah scoring more goals in England since his debut, before this season's commencement. So the question on everyone's lips is "Why does Aubameyang not play down the middle?".
As described above, Arteta's system required the main goalscorers in the team to be out wide floating through the channel between the fullback and centre back. With the explosion of the number of prolific wide forwards in recent years, with the likes of Messi, Ronaldo, Neymar, Salah, Mané, Mbappe, Sterling, Sané, it is not necessarily a bad tactic to employ. Often the space between the fullback and the centre-back is now where attackers find the most joy as teams clog up central areas when defending. Additionally, with the current Arsenal squad it allows you, in theory, to have more goal scorers on the pitch in both Aubameyang and Lacazette.
My main issue with this tactic for Arsenal is that although Aubameyang started his career as a more traditional winger, he does not have the same skill set as your modern traditional wide forward. If you compare him to any of the names mentioned above, he lacks the outright creativity inpassing and playmaking that players like Hazard, Neymar or Messi possess. He also lacks the one on one ability that is expected of almost all wide forwards in modern football. So whilst Aubameyang still has good pace, movement, a decent cross and excellent finishing ability when compared to other names in world football, his lacking in other areas means the Arsenal attack also loses creativity from wide when he is deployed there.
Similar strikers to Aubameyang, regarding the lack of one on one ability and creative passing, are names such as Jamie Vardy, Edinson Cavani and Mauro Icardi. They all rely on their movement in central spaces, with Cavani and Vardy running the channels very effectively to move defenders around. It would be very strange for any of these players to be deployed in wide areas and it should be noted one of the major reasons behind Claude Puel's struggles at Leicester came when he moved Vardy to a wider starting position to accommodate the likes of Slimani and Iheanacho.
There is no doubt that Aubameyang's best goalscoring exploits have come as a central striker. If we look at the data below, it's clear to see that at Dortmund surrounded by the creative talents of Marco Reus, Ousmane Dembele, Christian Pulisic, Shinji Kagawa and others, he was able to score at an alarming rate.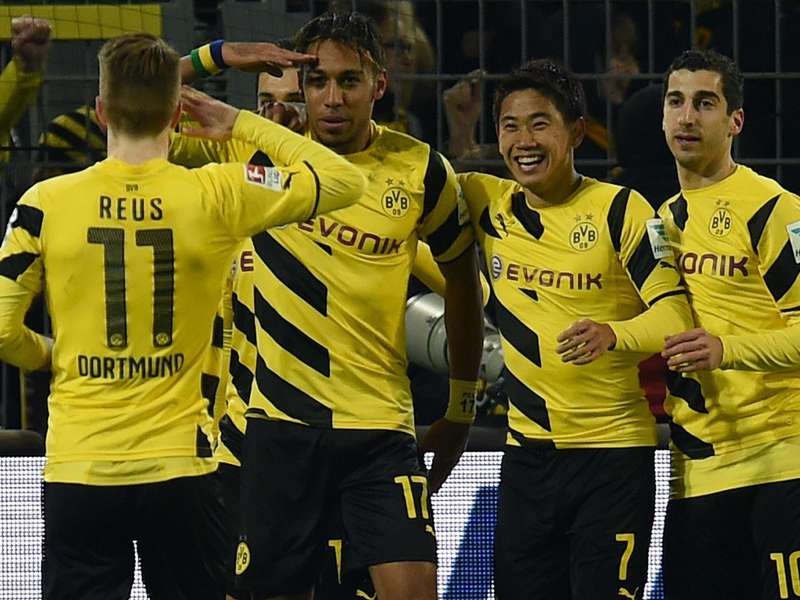 | Season | League apps | League Goals | xG | xG p90 |
| --- | --- | --- | --- | --- |
| 15/16 | 31 | 25 | 28.19 | 1.02 |
| 16/17 | 32 | 31 | 31.14 | 1.01 |
| 17/18 (Dortmund) | 16 | 13 | 16.65 | 1.05 |
| 17/18 (Arsenal) | 13 | 10 | 9.17 | 0.78 |
| 18/19 | 36 | 23 | 23.55 | 0.77 |
| 19/20 | 36 | 22 | 16.35 | 0.47 |
| 20/21* | 8 | 2 | 1.35 | 0.16 |
(understat.com)
After making the move to Arsenal, Aubameyang has rarely started as a lone striker, with him either starting with Lacazette in a two or being played on the left or right flanks. This, coupled with different styles of play when comparing the Bundesliga & the Premier League, as well as his age and potentially declining physicality can explain the drop in expected goals. It can be observed that Aubameyang has never really been an elite finisher with him consistently performing either almost directly at his xG or often at Dortmund, underperforming it.
One could argue that this aspect of his game has marginally improved since joining Arsenal and being the major reason why his goal return remained constant last year, despite the drastic decrease in his xG. Asking him to repeat this feat for a second year running would have been a big ask, especially given his previous record for finishing chances. Many opined that Auba scores as many from the left as he does in the centre mainly from looking at the outcomes rather than the process. It is clear Aubameyang gets fewer opportunities to score from the left and this season feels like the roosters coming home to roost.
As mentioned earlier, Arteta wants the number 9 to be a creative hub for the team. Like both Lacazette and Nketiah, Aubameyang's skillset isn't built to carry out this role. When asked about playing Aubameyang through the middle, Arteta stated "It will depend on the games, it will depend on who he's surrounded with. I think it's very important to see who is around him and why we're doing it. Not just the fact we're doing it, why we're doing that, and what we're going to get by doing these positive things. Of course there's a very strong possibility to play him as a 9". This shows that Arteta is aware of Aubameyang's record as a 9 but I think it's key that Arteta mentions who he is surrounded by as being a major factor to Aubameyang's performance in that position.
Aubameyang, I think it's fair to say, relies on service and creativity around him to flourish. As you can see, his xG was over a goal a game when surrounded by the highly creative midfielders and wingers at Dortmund. Arsenal currently have limited creative options both out wide and centrally compared to Aubameyang's time at Dortmund. Looking at the xG of 0.77 when Aubameyang first joined Arsenal in the 17/18 season, the likes of Ozil, Mkhitaryan, Ramsey, and even additional creators in Cazorla, Iwobi and Wilshere were all available at different times in the season. This may be why Arteta is reluctant to play Aubameyang centrally when the options around him may not offer the additional creativity needed.
Will he reconsider?
Under Arteta's tenure we have not seen Aubameyang start any games as a central striker and have only glimpsed it on one occasion against Sheffield United. Between the 58th minute, which saw the introduction of Nicolas Pepe for Eddie Nketiah and a switch to a 4231 formation, until the 81st minute, which saw the introduction of Granit Xhaka and a reversion back to a 343/433 hybrid. Prior to this substitution, Arsenal had created four shots with a total of 0.1 xG, which is pretty endemic of the entire 20/21 season when either Lacazette or Nketiah have started up front. In this 20 minute spell, Arsenal tripled this amount to a whopping(!) 0.3 xG and scored 2 goals.
This was probably the most balanced Arsenal's attack has looked under Arteta (in the absence of a certain mercurial German number 10) with the midfielders and attackers able to form triangles on the edge of the box. Generally the attackers were closer together to form combinations as Willian was able to shift to either flank, following the ball whilst allowing Aubameyang to remain in central spaces and move defenders around with his world class movement in and around the box.
These 20 minutes were probably the best league football Arsenal put together in terms of sustained attacking play all season (disregarding Fulham for obvious reasons). However, it should be noted that it did allow Sheffield United more license to break forward and create opportunities of their own which were seldom seen during that match. It should also be noted that the combination of Willian, Saka, Pepe and Aubameyang has not been seen since.
All in all, with the current level of performance from Lacazette up front, there is no doubt that a change is required ahead of the Leeds game. With Partey potentially out, and still no creative option available, it is time for Arteta to take the plunge and play the aforementioned attacking quartet together. This will allow Arsenal's most creative players in Saka, Willian and Pepe to operate together and also allows Aubameyang to occupy his most favoured and dangerous position on the pitch.
It is unlikely, due to his age, that Aubameyang will ever get back up to his Dortmund levels of over 1xG per game but it is imperative if Arsenal are to achieve their goals for the season that he is the one on the end of the chances being created and he is back scoring goals. This is not the only solution (as Arsenal still need to invest heavily in a very imbalanced current squad) but for the time being it is the most obvious solution and one that Arteta is yet to fully get behind.